We have become aware of ongoing phishing attempts targeting sellers on dubizzle. Please rest assured that we are investigating this issue right now.
Who is being targeted and how do I know if I was affected?
If you have an active listing on dubizzle right now, it's possible that you have received an SMS / WhatsApp message from a random number pretending to be dubizzle or any renowned courier company and asking you to confirm dubizzle delivery along with a clickable link.
See below examples: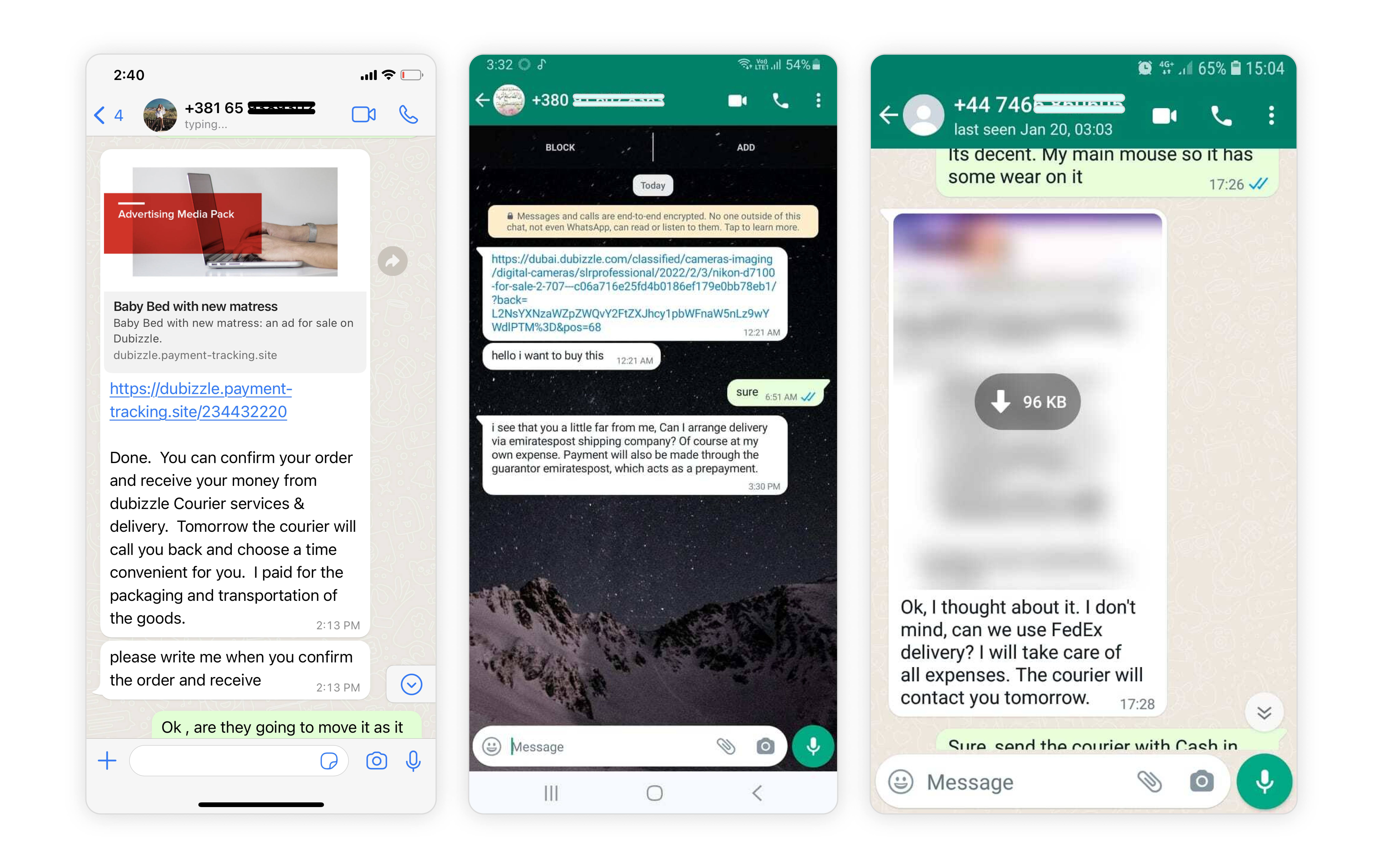 Please do not click on this link or follow any of the instructions. This is a scam attempt.
The following screen informs you that a buyer has made a payment for the item you are selling and asks you to enter your credit card details to deposit the money onto your card. Please do not follow these instructions and exit the screen immediately.
Important: We DO NOT take any payments on your behalf from buyers. The only thing you will pay for on dubizzle is for listings or premium products, and you'll make those payments ONLY during the listing process. Additionally, we will never ask you to download anything outside of the official Google and Apple app stores.
How can I protect myself?
Please do not share your debit/credit card details and delete this SMS, block the sender, and delete any other files that you have downloaded immediately. In any case, most devices have a security setting that, by default, does not allow downloading apps from unauthorized sources.
What happens if I already clicked on the link in the SMS / WhatsApp message?
There is little risk in clicking on the link itself however please DO NOT LOG IN unless you're doing so on the official dubizzle app or website. Beware that the link opens a window that looks like dubizzle. DO NOT MAKE any payments unless you're doing so to the buyer face to face.
As always, remember these tips:
- Scammers are easily able to get to you when you decide to engage with them privately and not through dubizzle chat. In order to protect you from any kind of scams or giving the option to scammers to be able to reach you at all, we're making you in charge!
We have launched a new option for you when listing your items for sale on dubizzle to keep your information safe. you will have the option to hide your phone number.

By selecting "Hide my phone number," your phone number WILL NOT be visible to any user browsing dubizzle, and will protect you from any scammers to be able to contact you privately.
- Always exchange money face-to-face for your items. We do not collect any payments from buyers on your behalf.
- If a buyer offers a bank transfer or shares any proof of payment, do not send your item(s) in exchange unless you have confirmed the payment in your account.
- Never share your personal information such as bank account or card details with strangers.
- For your own safety and privacy, choose to communicate with buyers through the built-in dubizzle chat functionality.